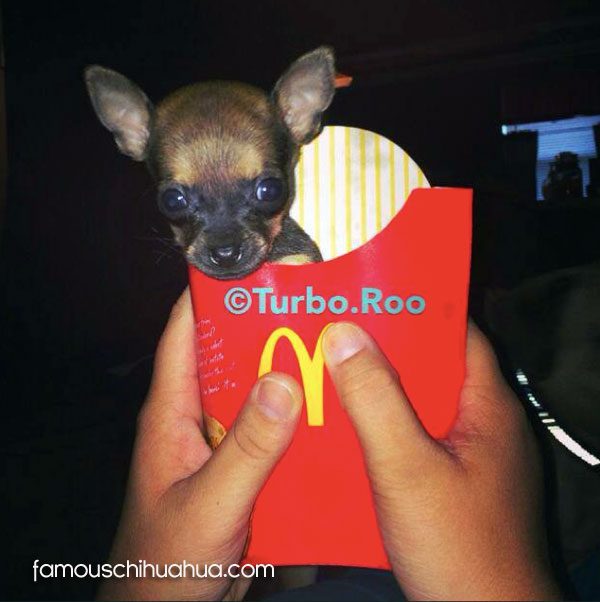 born without his two front legs, turbo is on a mission – a mission to live a happy and normal life!  with the help of the wonderful staff at the downtown veterinarian in indianapolis, indiana, he is well on his way to doing just that!  using parts from a fisher price helicopter toy, the staff was able to create a temporary cart with wheels for turbo to get around on his front end.
learn more about turbo the amazing chihuahua, visit his facebook page or his instagram page!
meet scooby the chihuahua, the greatest little cute chihuahua acrobat on the planet! whoo hoo!
"look mama, im famous!"
bumbie is one of the most sweetest and lovable long haired chihuahuas in singapore!  she understands her mommy inside out and always makes her happy.  she is like family!
recently little bumbie was selected to be a contestant in a clubpets magazine doggie casting call, click here to vote for bumbie if you think she's cute enough to win!  
congratulations denise, your sweet little bumbie is now a famous chihuahua!
is your chihuahua cute and famous in your eyes?  click here to submit their picture!
It's summer and the heat has arrived!  Chihuahuas are small animals that love the sunshine and come from a hot environment, but they're still prone to overheating and temperature sensitivity.  Here are some tips for keeping your Chihuahua cool during these hot summer days.
vehicles.  many chihuahua owners take their dogs everywhere.  If you do this, make sure your dog can go with you wherever you take her.  In the summer heat, a Chihuahua (as well as children and other animals) can develop health problems in a matter of minutes.
water.  Always bring water with you and a way for your Chihuahua to drink it.  try teaching your dog how to drink from a bottle of water.  You can also purchase a collapsible water bowl.
panting.  When dogs are hot, they pant.  If your Chihuahua is panting excessively with labored breath, she could be in trouble.  Get her into a cooler environment and offer her water immediately.  Foam at the mouth is another indication that it's just too hot for your dog.
exercise.  It's easy to exercise Chihuahuas indoors, and this may be something to consider on hot days. When heat warnings are in effect, you and your dog should spend most time indoors.  Try a light game of fetch inside with your chihuahua's favorite toy.