scooby the amazing famous chihuahua is back with his unbelievable quarterfinal performance on america's got talent!  watch as the talented christian stoinev does a strength routine in which he balances little scooby high in the air on his feet, using only his hand for support!
click here to watch scooby's first appearance on america's got talent!
sale on fall and winter dog coats! click here!
August 10th, 2014 · 1 Comment
meet miracle milly, a tiny brown female chihuahua who, according to the 2014 world's guinness record book, is the smallest living dog, in terms of height, measuring 9.65 cm tall when measured from backbone to paw. at birth, milly weighed less than an ounce and fit in a teaspoon. her mouth was too tiny to nurse from her mother, so she was given milk every two hours through an eyedropper. milly dethroned our friend boo boo, a long-haired chihuahua and famous chihuahua dog model from kentucky that stands 10.16 cm tall.
watch the world's smallest dog on abc's the view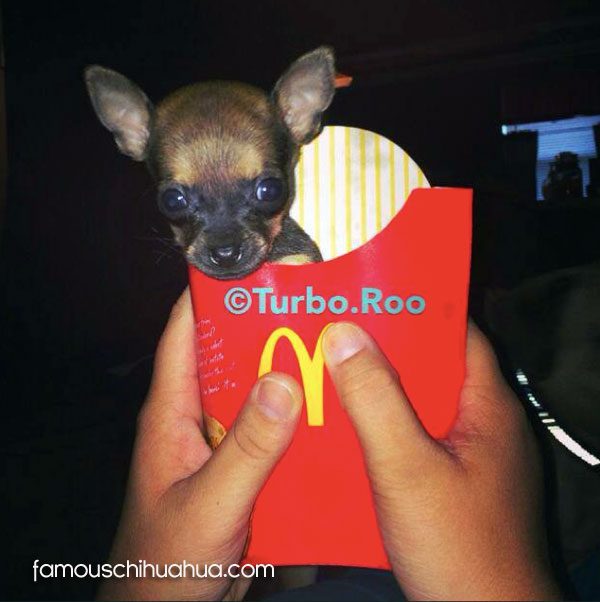 born without his two front legs, turbo is on a mission – a mission to live a happy and normal life!  with the help of the wonderful staff at the downtown veterinarian in indianapolis, indiana, he is well on his way to doing just that!  using parts from a fisher price helicopter toy, the staff was able to create a temporary cart with wheels for turbo to get around on his front end.
learn more about turbo the amazing chihuahua, visit his facebook page or his instagram page!
meet scooby the chihuahua, the greatest little cute chihuahua acrobat on the planet! whoo hoo!
"look mama, im famous!"
bumbie is one of the most sweetest and lovable long haired chihuahuas in singapore!  she understands her mommy inside out and always makes her happy.  she is like family!
recently little bumbie was selected to be a contestant in a clubpets magazine doggie casting call, click here to vote for bumbie if you think she's cute enough to win!  
congratulations denise, your sweet little bumbie is now a famous chihuahua!
is your chihuahua cute and famous in your eyes?  click here to submit their picture!